IJslander equipment now has the Nordic Swan Ecolabel in Denmark
Our agent CADO launches Denmark's first Nordic Swan Ecolabelled equipment for playgrounds and sports grounds with IJslander devices. This way kindergartens, schools, housing associations and municipalities have the opportunity to go for Nordic Swan Ecolabel playground equipment next time they are choosing equipment for their playground or sport grounds.
Nordic Swan Ecolabel for Playground and Sport Grounds Equipment
The label indicates and secures low environmental impact in the production and use of the equipment. Further it indicates:
– the use of recycled plastic and metal raw materials and a design that permits the re-use of plastic and metal.
– The use of chemicals with a lower environmental impact.
– Good performance properties (safety, strength and stability).
Ecolabelling Denmark
Ecolabelling Denmark, who is responsible for the Nordic Swan Ecolabel in Denmark, are excited about CADO's new, sustainable development:
"It is good news, that CADO as the first company in Denmark offers Nordic Swan Ecolabelled equipment for playgrounds, training grounds and sports grounds. Many municipalities are increasingly demanding Nordic Swan Ecolabelled products and at the same time, we experience an increasing interest for Nordic Swan Ecolabelled constructions. For that reason I think that many will see it as an advantage, that they can now integrate the Nordic Swan Ecolabel when they are constructing playgrounds to, for instance, day-cares, housing associations or in the public parks." says Martin Fabiansen, director of Ecolabel Denmark.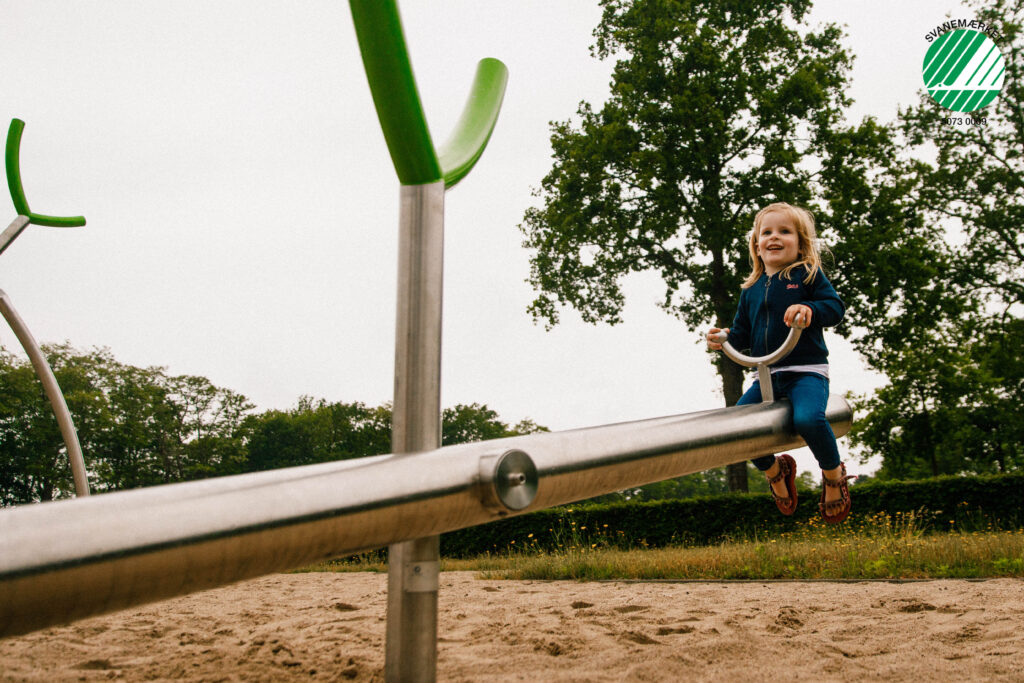 Do you want to know more? Visit the website of our agent CADO Denmark https://cado.dk/news/cado-lancerer-danmarks-foerste-svanemaerkede-redskaber-til-lege-og-sportspladser/