Exciting final Circular Entrepreneur Award
On Thursday, January 10, 2019, the Circular Enterprise Award ceremony was held. IJslander was one of the finalists who competed for the award. The other two were Schagen Infra B.V and Dijkhuis Bouwteam van Waarde.
We will continue!
Schagen Infra B.V was presented with the award by deputy Annemieke Slow. The presentation took place during the New Year's reception of VNO-NCW middle and MKB Region Zwolle.
Even though we didn't get the award, we continue to strive for a circular economy. Because circular entrepreneurship is not new to us. We have been working to make our business operations more sustainable since our foundation. The appliances that are made by IJslander are manufactured as much as possible from circular materials. That is and remains profitable, according to John Franken, Managing Director: "What you do right at the front – sustainable materials – will help you at the end of the process". Our ideal vision for the future is therefore the infinite circulation of play and sports equipment between supplier and user.
Want to know more about circular entrepreneurship at IJslander? Watch the video.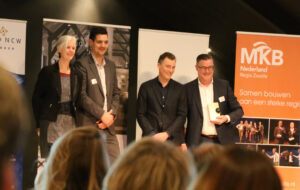 Why does DORZ gives this award?
The Zwolle region wants to lead the way in the transition to a circular economy, in which waste of materials and raw materials is prevented and human effort is increased. This transition is very needed and at the same time offers great opportunities for companies. To further accelerate this movement, Stichting Duurzaam Ondernemen Regio Zwolle (DORZ), in collaboration with partners from the government, education and business, is launching the Circular Enterprise Award for the first time this year.